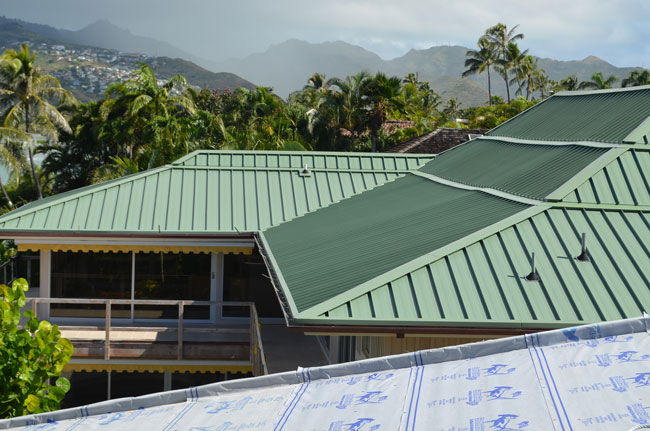 Problem: A residence on the NE shore of Oahu required a reroof that would reduce heat gain.​
​Design challenge: The 2×8 roof beams are exposed inside and finished with a clear stain so there is no opportunity to add insulation below the roof deck. ​
​Solution: To keep the weight on the roof to a minimum and help reduce thermal load, the contractor ​
Installed a "dry-in" layer of Sharkskin Ultra® ​
Followed by Sharkskin Vent Mat™ to ensure air flow​
Followed by Sharkskin Ultra Radiant ® (reflective side down) to externally radiate infrared energy reducing thermal gain.​
Project: Reroof to reduce heat buildup​
​Location: Hanapepe, Hawaii​
​Contractor: Fred Rehm​
Roof Underlayment: Sharkskin Ultra ®, Vent Mat™ and Sharkskin Ultra Radiant ® ​
​Metal Roofing: Aluminum Country Manor Shake​
​Metal Roof Tile Finish: Kynar 500 Infrared reflective​